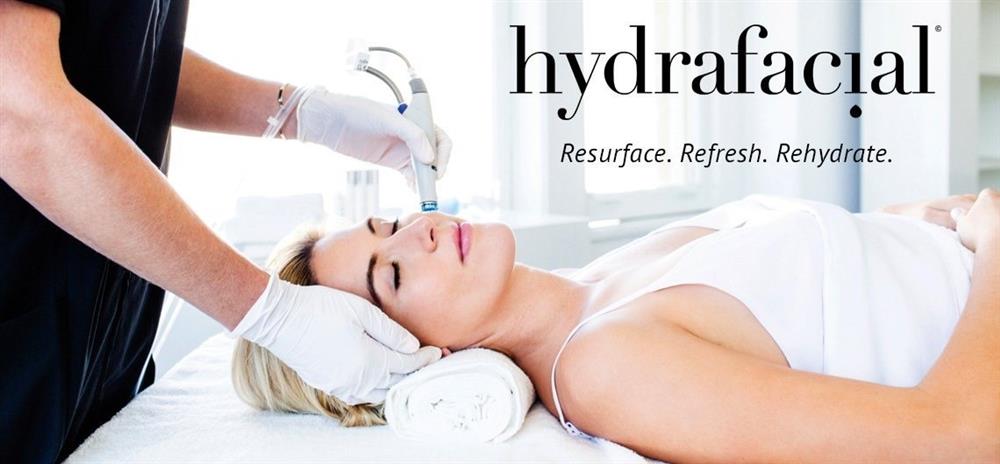 The award-winning HydraFacial MD® is a transformational skin experience that takes the traditional facial and peels to a whole new level. Using 100% natural ingredients and serums, HydraFacial MD® comfortably and effectively cleanses, exfoliates and extracts without causing irritation. Simultaneous hydration and infusion of nutrients into the skin completes the process and may provide both immediate and lasting results.

HYDRAFACIAL MD®: DETOXIFY, EXFOLIATE, EXTRACT, HYDRATE AND REJUVENATE
The HydraFacial MD® utilizes patented Vortex Fusion technology to cleanse and deeply exfoliate the skin. A unique facial tip is used for exfoliation, as well as both alpha hydroxy and beta hydroxy acids. Vacuum extraction of the pores gently and effectively removes impurities from the skin, while infusing it with intense hydration from potent antioxidants, neuropeptides, hyaluronic acid and nutrients that promote the production of collagen.

HYDRAFACIAL MD®. IS HIGHLY EFFECTIVE AT IMPROVING OVERALL SKIN HEALTH AND AN EXCELLENT CHOICE FOR THE TREATMENT OF:
• Acne and Blemishes
• Fine Lines and Wrinkles
• Elasticity and Firmness
• Oily Congested Skin
• Dullness and Dehydration
• Skin Texture
• Skin Tone and Brightness
• Hyperpigmentation and Sun Spots
• Enlarged Pores
CUSTOMIZED TREATMENTS
The HydraFacial MD® treatment can be tailored to safely & effectively address your unique skin concerns. Flawless Anti-Aging and Laser Clinic offers a variety of HydraFacial Treatment packages including:
Platinum HydraFacial
The ultimate HydraFacial experience! The detoxification process begins with Lymphatic Drainage, then, the Platinum HydraFacial deeply cleanses, exfoliates, extracts and hydrates the skin while incorporating a Booster designed to target your specific skin concerns. This treatment concludes with LED Light Therapy to further reduce the visible signs of aging.
$275

Deluxe HydraFacial
This invigorating treatment includes deeply cleansing, exfoliating, and extracting impurities from the skin while simultaneously infusing nourishing ingredients to hydrate the skin. The Deluxe HydraFacial also includes a personalized Booster to address your specific skin concerns and LED Light Therapy to further reduce visible signs of aging.
$250 per session / $675 for 3 sessions
Signature HydraFacial
This invigorating treatment includes deeply cleansing, exfoliating, and extracting impurities from the skin while simultaneously infusing nourishing ingredients to hydrate the skin. Upgrading to The Platinum or Deluxe HydarFacial enhances your experience with a personalized Booster, LED Light Therapy, and Lymphatic Drainage options.
$199 per session / $525 for 3 sessions
DermaPlane Pro HydraFacial
A multi-step patented facial technology that covers all of the bases so you can walk away with a deep-set glow that will last for days. This treatment combines the powers of two best-in-class facial rejuvenation treatments: HydraFacial + Dermaplaning. While dermaplaning allows us to gently remove dead cells from the surface of your skin, HydraFacial allows us to deeply clean, exfoliate, hydrate and protect your complexion. Anyone can benefit from this well-rounded skin treatment that will leave you looking and feeling great instantaneously.
$225
THE TREATMENT
Only HydraFacial uses patented technology to cleanse, extract, and hydrate. HydraFacial super serums are made with nourishing ingredients that create an instantly gratifying glow in just 3 steps:
CLEANSE + PEEL
Uncover a new layer of skin with gentle exfoliation and relaxing resurfacing.
EXTRACT + HYDRATE
Remove debris from pores with painless suction. Nourish with intense moisturizers that quench skin.
FUSE + PROTECT
Saturate the skin's surface with antioxidants and peptides to maximize your glow.
How Often Do You Need to Get a HydraFacial?
Although your skin looks dewy and glows following a HydraFacial, the treatment isn't a quick fix. It's intended to improve skin's appearance over time. That being said, its effects do last longer than other facials. But in order to get maximum results, Flawless suggests getting a HydraFacial treatment every four to six weeks.

HydraFacial Perk Lip and Eye Treatments
The powerful HydraFacial vortex technology is not well suited to the delicate lip and eye area. Hydrafacial has developed a gentler roller-flex technology to treat the lip and eye areas, termed the Perk treatments. The Perk treatments offer immediate results in 15min paired with a month-long regimen of take-home products.
Perk Lips exfoliates and prime lips with key ingredients such as peppermint oil, peony extract and hyaluronic acid that lightly plumps the lips.
Perk Eye treatment awakens the delicate eye area to help brighten, tone and firm the outer eye area while maintaining hydration.
Perk Lip or Eye treatments can be enjoyed on their own or added to any HydraFacial experience.
HydraFacial Before And After Photos
HydraFacial Video Testimonials